There are many advantages to 3D modeling your woodworking projects. Perhaps you're testing out new ideas, helping clients visualize what's in your head, or finalizing a specific detail or measurement before you head to your shop.
Both hobbyists and professional woodworkers find that Computer-Aided Design (CAD) packages provide more benefits than they originally desired. Parts lists, cutting maps, material simulations, and photorealistic renderings are a few extra benefits CAD can provide.
CAD programs will continue to provide additional benefits as computers get more advanced. That means there will be more to learn the longer you wait to add it to your workflow.
Hopefully, you agree that the chosen CAD package should make your life easier – saving time and money while helping mitigate potential issues in the middle of a project.
There are many variables to consider when choosing a 3D modeling program for woodworking. Today, we'll compare Fusion 360 and SketchUp – two programs often debated in the woodworking industry.
Which Software Is Best for You? – Fusion 360 versus SketchUp
The following questions are all things to contemplate when deciding between Fusion 360 or SketchUp for woodworking.
Who Owns Each Program? – Fusion 360 and SketchUp
Knowing who owns and maintains a software program can help you better understand the overall experience.
Pricing, ease of use, software support, and the greater community are all considerations influenced by the software author.
Many gravitate to a program's creation date. Keep in mind that years of existence don't necessarily indicate the extent or effectiveness of a software program.
Fusion 360 and SketchUp are owned and maintained by separate publicly traded companies, with many similarities and differences.
Who Owns Fusion 360?
Fusion 360 is a professional CAD and CAM package by Autodesk, Inc. It was made available to the public in 2013 and is still maintained solely by Autodesk, Inc.
Fusion 360 is considered "young" in the world of software development. However, Autodesk has a proven track record of deploying and building massive success with software programs. Most important, Autodesk has acquired and folded many technologies into Fusion 360, including Meshmixer (mesh modeling) and Eagle (PCB modeling).
Many know Autodesk for its creation of AutoCAD, which is one of the most used CAD packages to date.
Autodesk has a history of creating, acquiring, and maintaining design software. Leaning on Autodesk's product portfolio and development history has helped Fusion 360 become a frontrunner in product design and development.
Fusion 360 has only been around for seven years, but Autodesk has combined decades of development work with modern technologies.
With this in mind, you can think of Fusion 360 as a reborn edition of a classic sports car – decades of experience reimagined for the present day.
Contrary, SketchUp has taken a different route.
Who owns SketchUp?
SketchUp debuted in 2000 as a general-purpose 3D content creation tool. A company called @Last Software created it. They later sold to Google in 2006 for an undisclosed sum of money.
Google was interested in @Last Software's work in creating a plugin for Google Earth, but they sold SketchUp to Trimble, Inc. on June 1, 2012. In that time, SketchUp gained traction with hobbyists through its free downloadable version, which didn't include all the features of SketchUp Pro.
Over time, SketchUp evolved and has become known for its use in architecture, interior design, landscape architecture, civil and mechanical engineering, film, video game design, and of course, woodworking.
Trimble, Inc. predominantly serves the construction, agriculture, and telecommunications industries.
There is a lot of overlap between Autodesk, Inc. and Trimble, Inc. However, the most notable difference is that Autodesk products serve the manufacturing industries. Industries include product design and the development of consumer goods.
Although that alone is not a deal-breaker, we'll keep that in mind as we compare the remaining categories. Next up – which operating systems Fusion 360 and SketchUp runs on.
Which operating systems are supported?
3D-modeling programs were traditionally only available on the Windows operating system. Fortunately, there are now many CAD packages that work on both Mac OS and Windows OS.
Fusion 360 is available on both Mac and Windows. Autodesk Fusion 360 requires you to download a native application (Mac or Windows) for your chosen operating system.
At one point, Autodesk launched an Alpha version of a web-based Fusion 360, but that project quickly got shelved for later. It's not clear if a web-based Fusion 360 will ever become a reality.
Due to the Covid-19 pandemic, Autodesk released a virtual (web-based) environment for education users. The virtual version allows EDU-license holders to run Fusion 360 on Chromebooks and other computers that cannot handle Fusion 360 natively. At this time, Autodesk has been upfront that they have no plans to release the "web-based" Fusion 360 to everyone.
If you're using an older computer, then you'll want to check that it meets the system requirements for Fusion 360. Otherwise, you may prefer SketchUp's ability to run solely on a web browser (though be aware of the caveats).
SketchUp offers a web-based version and a desktop application for Mac OS and Windows OS. However, unlike Fusion 360, Sketchup's desktop version is only available on specific pricing plans – more on that when we compare costs.
The biggest downside to using the web-based version of SketchUp is that you'll need to remain connected to the internet, which is something often overlooked. A constant connection is troublesome if your workshop doesn't have a great internet connection. The internet requirement can also be a deal-breaker if you plan to work a lot on the go. Fusion 360 does support an offline mode and does not need to remain connected to the internet at all times.
If an operating system is not the deciding factor, then you'll want to consider the ease of use, including how long each program may take to learn.
Which is easier to learn? – Fusion 360 vs SketchUp
Both Fusion 360 and SketchUp are known for having intuitive user interfaces. It's challenging to say which one is "easier" to learn, as they're different mental models. We've found the most challenging learning curve to be those switching from one to the other, as it's hard to let go of the concepts that don't transfer over.
Fortunately, both Fusion 360 and SketchUp have large and growing user bases. Countless educational videos are online for Fusion 360 and SketchUp. You will find videos released by each company as well as expert users.
Each program also has a Knowledge Center that details each feature. Fusion 360 also offers an in-product learning panel (for some commands).
You'll also find online course offerings, such as our Fusion 360 training courses, to be a great way to master the program.
In-person classes are also starting to come back as the Coivd-19 pandemic drags on. Check out your local library and makerspace, as many offer classes on these programs.
Fusion 360 vs SketchUp Support Options
Both Fusion 360 and SketchUp offer official support channels for their users. Between blogs, tutorials, forums, and customer service, there's a way to get an answer.
Fusion 360's support options will depend on the license type you have. See our license and cost breakdown below. Those on the free Personal Use (hobbyist) license will have to rely on the official Autodesk Fusion 360 Forum for help. The forum is very active, including many Autodesk employees who respond. Those on the free license can also seek support in the Fusion 360 Facebook groups.
For Commercial (paid) and EDU license holders, you can contact official Fusion 360 support. Official support includes phone and email support, which are known to be responsive (<24 hours).
On the other hand, SketchUp representatives are less active on their forum and rely more on the community members to help. SketchUp also offers phone and email support. SketchUp support is only available for those on the SketchUp Pro subscription or license holders who pay extra for Maintenance and Support.
Designing in Fusion 360 vs SketchUp for Woodworking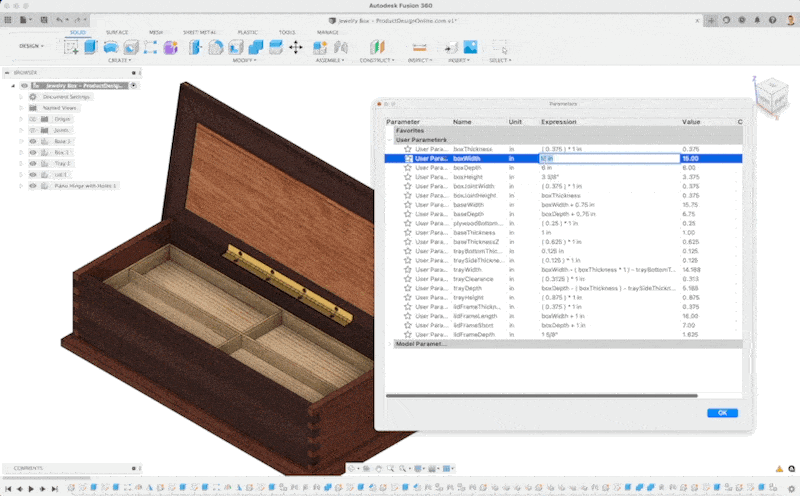 To better understand designing in Fusion 360 and SketchUp, one must first understand the type of modeling they offer.
SketchUp is a polygon mesh modeling program. In short, models exist of many small triangles that meet at vertices. Although it is possible to construct a mesh by manually specifying vertices and faces, SketchUp offers many pre-built tools to make the desired shape.
Contrary, Fusion 360 is the most flexible and offers many modeling types in the same CAD package. Fusion 360 is a NURBS modeling program NURBS includes both solid and surface modeling. Fusion 360 also supports importing and working with polygon mesh files. Though, the mesh feature set is limited compared to the rest of the program. Lastly, Fusion 360 also offers T-spline modeling (a type of Subdivision).
The most notable difference is that Fusion 360 offers parametric modeling. With parametric, Fusion 360 will record all of your actions in a timeline. Parametrics allows you to edit any existing feature or dimension at any time. User Parameters allow you to update dimensions on the fly, while the model dynamically updates.
Fusion 360 also supports direct modeling, where the timeline is off.
With SketchUp's mesh modeling, you'll have to alter the existing shape or recreate the object again.
For woodworking, parametric modeling is critical to quickly testing different dimensions. Copy files or parts to create different sizes by punching in a few new dimensions instead of starting from scratch each time.

Both programs also offer several 3rd-party add-ins (or "extensions") to extend the software's functionality.
Cut List and 3D Drawings in Fusion 360 vs SketchUp
One advantage of modeling your woodworking plans is to generate a cut list. Whether the cut list is for yourself or to sell online, they can be a great way to cut down on costs and mistakes.
Fusion 360's native cut list leaves something to be desired. Fortunately, a few 3rd-party add-ins are available. We recommend MapBoards pro and OpenBOM, each of which offers extra functionality.
SketchUp will also require a cut list extension to generate a list of your parts. There is a free CutList extension as well as some paid ones.
Fusion 360 vs SketchUp CAM for CNC Routers
CNC Routers are becoming increasingly popular in woodworking shops. The apprehension of learning software to operate a CNC often prevents hobbyists from purchasing one.
Fusion 360 includes native CAM tools or the workflow required to generate toolpaths to operate a CNC router. Contrary, SketchUp does not have CAM functionality. You can export your SketchUp file and use a 3rd-party program to complete the CAM setup. However, the downside is that your model will no longer inherit updates from the source. Fusion 360 makes it easy to go from design to CAM setup, including updating design changes in a matter of seconds.
Fusion 360's Manufacture workspace, which includes the CAM toolset, is geared towards professional users. You can use it with $100,000+ CNC milling and lathe machines or $500 hobbyist CNC routers. One downside is that it can be intimidating to hobbyists, who have entry-level machines. Many features and settings do not apply to hobbyist machines.
You can learn how to use Fusion 360's CAM with our Introduction to Fusion 360 CAM for Woodworkers course.
Fusion 360 vs SketchUp for 3D Printing
Woodworking hobbyists and professionals alike see the benefits of having a 3D printer in the shop. Use a 3D printer to create custom jigs, replace plastic parts, and create miniature prototypes.
You can use Fusion 360 and SketchUp to create designs for 3D printing. SketchUp's free plan does not allow one to export as an STL file. Fortunately, a free STL export extension is available to do so.
Fusion 360 is more robust for additive manufacturing. Fusion 360 can export as STL, OBJ, 3MF (on all licenses), and "slice" or generate G-code within the program. They also make it easy to send your file directly to Ultimaker's Cura or your chosen slicer software.
SketchUp does not have native Fillet and Chamfer tools, which are often essential in successful 3D prints. Fusion 360 offers Fillet and Chamfer as both sketch and modeling tools.
Similar to woodworking projects, Fusion 360's parametric abilities will be helpful in many 3D printing applications. Update sizes and adjusts features without having to remake your model from scratch.
Fusion 360 vs SketchUp Cost
Fusion 360 and SketchUp offer free and paid license options, including special access to education users.
The cost is hard to compare directly, as the programs differ. Keep in mind that Fusion 360 is much more robust, offering many workspaces and modeling options.
Fusion 360 License Options
Personal Use (Hobby) License

Price: Free, renew every year. (Learn how to get Fusion 360 Personal Use).
Requirements: Any Hobbyists for non-commercial use. Per terms, may not make more than $1,000 through the use of Fusion 360.
Limitations: 10 active documents (unlimited files), restricted features/workspaces.
Education License

Price: Free, renew every year.
Requirements: Anyone enrolled in an accredited institution. Proof of enrollment is required.
Limitations: Fully featured, same as Commercial version except limited cloud credits/cloud rendering/simulation at peak times.
Startup License

Price: Free, renew every year.
Requirements: Must apply and get approved. Per terms, may not make more than $100,000 through the use of Fusion 360.
Limitations: All features are available. Advanced Design exntensions extra cost.
Commercial License

Price: Get 20% off Fusion 360's Latest Price – $60/month, $495/year ($41/mo.), or $1335/3 year ($37/mo.), January 1, 2022
Requirements: Anyone who subscribes to monthly, annual, or 3yr plans.
Limitations: All features are available. Advanced Design exntensions extra cost.
SketchUp License Options
SketchUp Free

Price: Free for non-commercial use.
Requirements: Any Hobbyists for non-commercial use.
Limitations: Web-based version only. 10GB of cloud storage and limited access to tools. Watermark on exported designs.
SketchUp Shop

Price: Check Latest Price – $119/year for a web-based version.
Requirements: Any Hobbyists for non-commercial use.
Limitations: More tools compared to the free version. Unlimited cloud storage.
SketchUp Pro

Price: $299/year for the desktop and web-based versions.
Requirements: Anyone who subscribes annually.
Limitations: This plan comes with a 2D documentation application (LayOut), animations, and advanced features. Plug-ins and extensions are also available.
SketchUp Studio

Price: $699/year (~$55/year for students and educators).
Requirements: Anyone who subscribes annually.
Limitations: Windows OS only for the desktop version. All features are available.
Conclusion: Fusion 360 vs SketchUp for Woodworking
With parametric modeling*, built-in CAM, and additive manufacturing (i.e. 3D printing slicer), we believe Fusion 360 is the clear winner in 2022. In recent years, more and more hobbyists have been ditching SketchUp for Fusion 360. Parametric modeling is the number one reason. Fusion 360's robust tools and modeling environments are also hard to match without using a large amount of SketchUp extensions.
Fusion 360 gets monthly updates, which means more features and automation. Start learning Fusion 360 with our free tutorials on YouTube or join the PDO Academy to master Fusion 360 faster.
*Parametric modeling will make a huge difference when designing for woodworking. We consider this a deal-breaker if you plan to virtually create your designs before building.
Fusion 360 Pros
Parametric (and Direct) Modeling
Free version excellent for Hobbyists
Excellent customer support
Versatile modeling types and environments
Easy collaboration
Fusion 360 Cons
No web (browser-based) version
Requires internet connection (every two weeks)
No Linux or tablet support
SketchUp Pros
Web (browser-based) version
Free version excellent for Hobbyists
Access to 3D Warehouse library (ready-made 3D models)
A large community of users
SketchUp Cons
No parametric modeling
No native CAM (CNC) tools
What did we miss? Post a comment below and let us know!