Understanding the difference between bodies and components is an important first step to becoming proficient in Fusion 360. Whether you're an experienced CAD user coming from Autodesk Inventor or SolidWorks, or you're completely new to the world of 3D modeling, this is the place to start.
By the end of this article, you'll have a solid understanding of the difference between Bodies and Components and we'll talk about the dubbed Fusion 360 Rule #1 and Rule #2.
Bottom-Up VS Top-Down Assemblies
Before we dive right into the world of bodies and components it's important that you understand the difference between Bottom-Up Assemblies and Top-Down Assemblies – which will help you better understand WHY Fusion 360 is set up the way it is.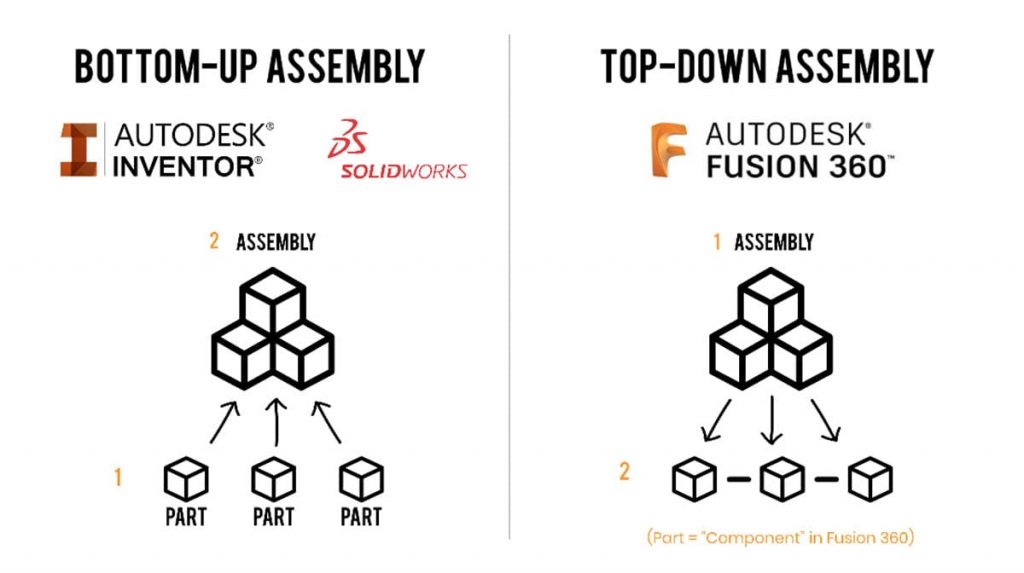 Bottom-Up Assemblies
Let's take a look atRe-arranges screen to look at selected object. More Bottom-Up Assemblies first. This is the traditional assembly modeling technique. If you're coming from Autodesk Inventor or another CAD program then you're likely already familiar with it.
The essence of the "Bottom-Up Assembly" Technique is that each part is created individually, and then all the parts are inserted into an assembly document and constrained to each other. There is NO link created between parts, so the parts fit(keyboard shortcut "f6") Makes the current file fill the screen. More together because you designed them to fit together. If you change one part, you'd better know which other parts will be affected by the change and make sure that they are also updated accordingly.
Top-Down Assemblies
On the other hand, we have "Top-Down Assemblies" which means you start with an assembly file and build all your parts within the context of the assembly. Fusion 360 falls in the top down assembly category, although technically you could also use Fusion 360 as a Bottom-Up assembly.
In Fusion 360, each new document you create can be treated as an assembly, which is why you'll never see "create new assembly" under the file menu (but you will in Autodesk Inventor and SolidWorks).
The benefit of top-down assemblies is that we can reference other sketches and parts, so if we change one thing the other features or parts change accordingly. This is a great way of ensuring that parts that need to fit together always fit together, without you having to go back and manually edit the parts each time. This top-down technique is intuitive and much quicker, but it does still have some drawbacks. You can still get yourself into a pickle, especially with large assemblies, which is why it's important to plan out your model before you even start your very first sketch.
Now that you know the main idea behind Fusion 360 is based on the "Top-Down Assembly" technique, let's take a look at the difference between Bodies and Components. (Although, remember that technically you can use Fusion 360 the Bottom-Up Assembly way as well).
Bodies in Fusion 360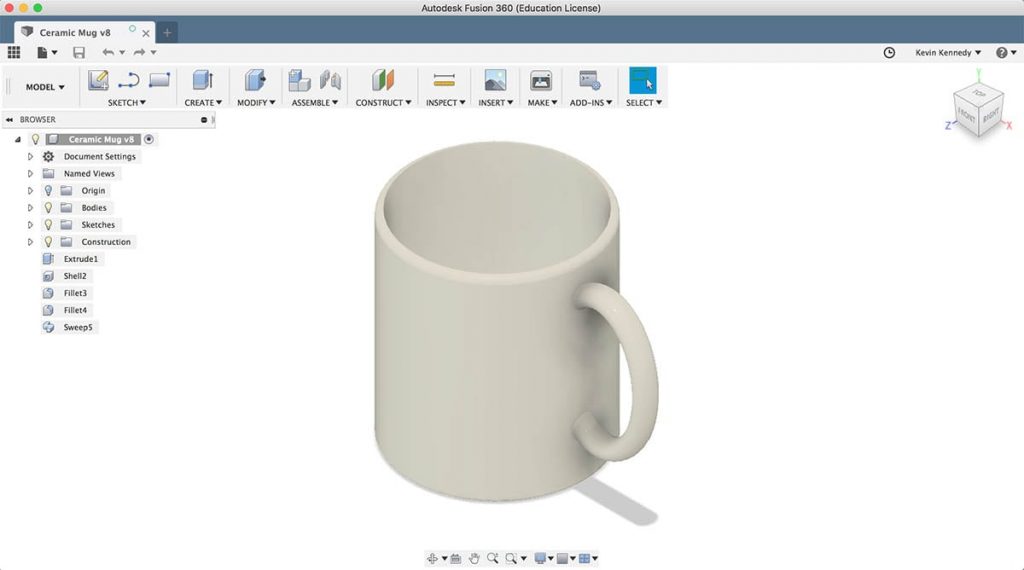 Bodies can be seen as modeling tools. You use separate bodies to add or remove geometry to achieve the final shape of your design. An example of a body could be a ceramic mug. You would create one body for the cylindrical part of the cup and another body for the handle, and of course, join them together. New bodies will be created any time you turn a sketch into a 3D object.
Some CONS of Bodies:
They won't show up in a parts list, which could be troublesome if you need to create a drawing with all of the parts

Patterned bodies will act independently from their parent. So if you alter one body, you'll notice the others don't change. Whereas if they were components the other "parts" would update accordingly
So what the heck are components and why should we use them?
Components in Fusion 360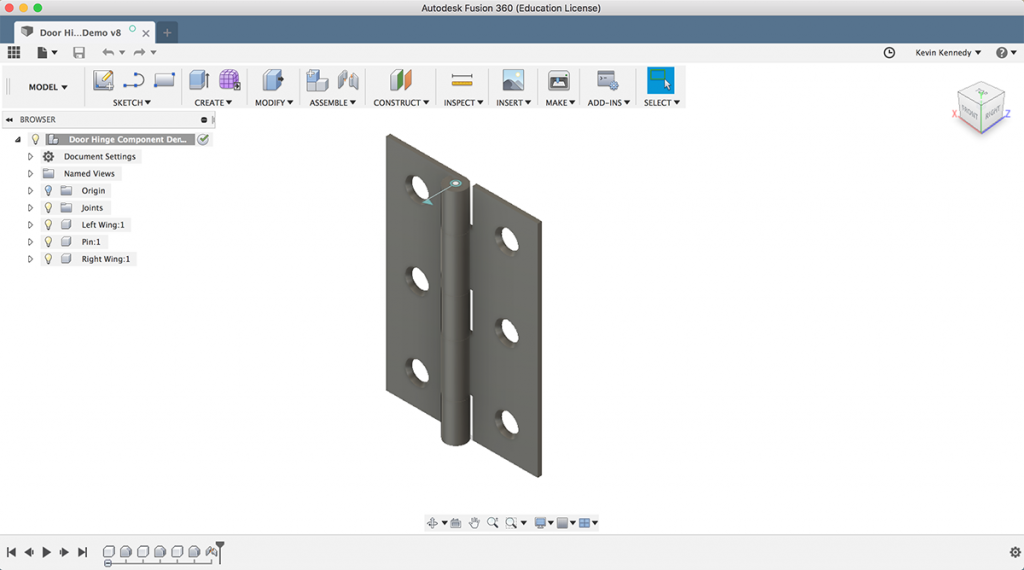 Contrary, components represent real-world parts. You can think of components as parts that are manufactured with multiple pieces. You'll want to use components every time your design consists of multiple parts that may be assembled to one another. A good example of a component would be a door hinge, as it consists of three components: one for the left wing of the hinge, one for the right wing, and the pin that holds the hinge together.
PROs of using components over bodies:
You can drag bodies and other objects from one component to another in the browserThe browser lists objects in your design (everything from planes and sketches to parts and assemblies). Use the browser to make changes to objects and control visibility of objects. More.
A component can also contain other components, which is often referred to as a subassembly.
Components allow us to use joints to assemble and create mechanical relationships between components, such as this door hinge example. It moves based on the joints I applied, but if I had created the door hinge with bodies and not components, then I would not be able to apply these joints.
Another trick with components is that you can activate components, which offers many advantages. Activating a component allows you to focus solely on it, and the other components will be shown with some transparency. The advantage of activating components means that bodies, sketches, components, or other features you create will be nested within that component.
Lastly, and probably one of the most important things about components is that they can be reused or copy and pasted in a design. By right-clicking and selecting "copy/paste" you can duplicate them as many times as you would like. And as we discussed earlier, all component instances update when a change is made to one of them.
Fusion 360 Rule #1
Having a basic understanding of the difference between Bodies and Components leads us to the dubbed Rule #1 from the Fusion 360 forum which is to ALWAYS start your file off with a new componentCreates a new empty component or converts existing bodies to components. When creating an empty component, enter a name and select the parent. When converting bodies, select the bodies to convert. More. Now Rule #1 was created by the Fusion 360 community on the forums, and the idea is that if you always start with a component, you'll never be kicking yourself in the foot when your browser tree is messed up because you're trying to create components after creating your bodies.
Fusion 360 Rule #2
I gave you rule #1, so we may as well discuss rule #2, right?
Rule #2 from the Fusion 360 forum is to ALWAYS re-name your components and bodies right after you create them. It's also a very good idea to get into the habit of re-naming any sketches, decals, or any other layers in your Fusion 360 Browser.
Re-naming "assets" in the Fusion 360 browser will not only help you speed up your workflow, but it will ensure you're manipulating the correct body or component later down the line(keyboard shortcut "L") Creates lines and arcs. Select a start and endpoint to define a line segment. Click and drag the endpoint of a segment to define an arc. More. Especially as your assembly file gets filled with many parts – components and bodies.
(Ps. If you're wondering, there is no Rule #3 yet… Be sure to participate in The Official Fusion 360 forum and maybe you'll help create Rule #3!)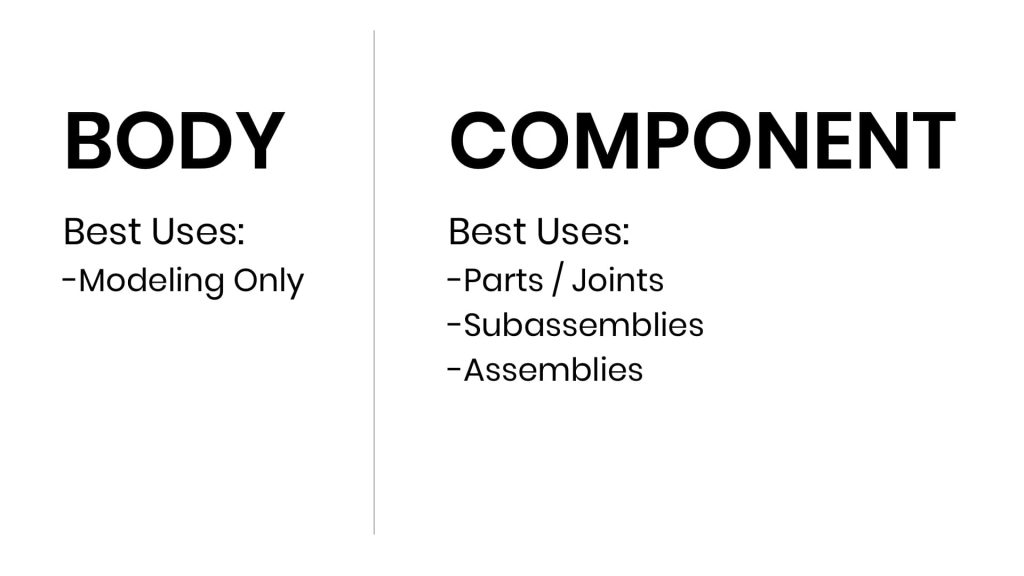 RECAP: Bodies VS Components
It's OKAY to use bodies if you're just creating a small or quick model for something like 3D printing, or something to play around. Especially when you're certain that you won't be needing any assembly features. Otherwise, it's good practice to get into the habit of always using components at the beginning of your design, which will ensure that you can successfully create joints, subassemblies, and assemblies without any major headaches.
As a friendly reminder, it is possible to create components from bodies BUT it's not recommended because it won't always work and sometimes it will cause errors throughout your file.