Tinkercad is a free 3D modeling program known for its ease of use. It's 100% web-based, making it available to anyone with an internet connection.
Kids, educators, and hobbyists use it to design anything imaginable. Utilizing 3D printing, laser cutting, or building blocks can bring Tinkercad projects into real life.
Many Schools use it as a way to teach projects with 3D Design, Electronics, and Visual Code Blocks.
Let's explore these three core areas of Tinkercad.
3D Design
Tinkercad launched in 2011 to make 3D designs available to the general public. Designing in Tinkercad is a great way to learn the foundation of solid modeling.
Solid modeling is the practice of building objects with primitive shapes. Users can drag and drop premade shapes into the workspace to create solids.
By combining premade shapes, users can create their unique designs.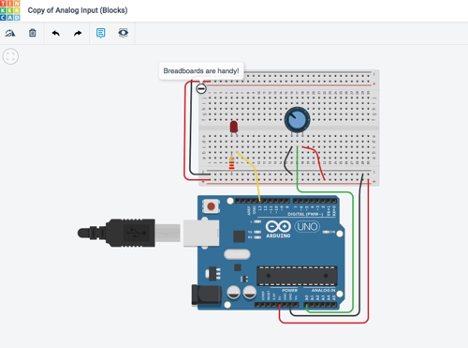 Electronics
Unique designs can also utilize motion and light by using Tinkercad's built-in circuit features.
Users can begin with a starter circuit or build their own by using premade wire components. Virtual-circuits are a great way to learn and tinker before making it in real life.
Built-in Code blocks or custom C++ can run circuit components. Users can tweak and further define them until they achieve their desired result.
Visual Code Blocks
Drag and drop premade code blocks together to make custom shapes. Code blocks allow the creation of 3D designs using visual programming.
Reordering the code blocks can refine the details of shapes. For example, a cylinder code block cut out from a box code block makes a hole.
To save time, Tinkercad includes several example code blocks. The "Starters" section groups all of the samples that are ready to use.
Creating custom code blocks includes making changes to a code block, followed by pressing the Run button to see the changes rendered on the workspace – it's that easy!
Getting Started
Learning a new tool can be intimidating. Fortunately, understanding Tinkercad is much easier than most programs.
Choose from introductory guides, lessons, and projects on the official Design Learning page.
Everyone new to Tinkercad should begin with the "starters," which serve as quick guides that introduce the fundamentals.
Lessons are the next step, where you'll start building objects such as Minecraft glasses, rings, and more.
Get started today by creating a free Tinkercad account!